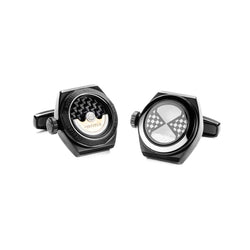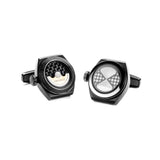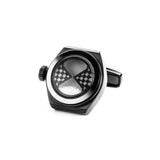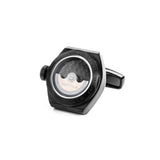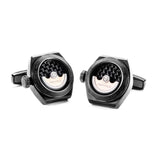 Eternity Interchangeable Cufflinks (Black Set C)
Eternity series cufflinks are constructed of more than 10 components within a tight space of just 20mm, consisting full-titanium case, ceramic ring and one of mens' favourites - mechanical watch rotor. Featuring patented interchangeable front face, the watch rotor can be instantly interchanged with an hourglass with ceramic ring to match and elevate your appearance.
 ⠀⠀⠀⠀⠀⠀⠀⠀⠀⠀⠀⠀
SPECIFICATIONS:
Materials: Titanium, carbon fibre, ceramic ring
Features: Interchangeable middle components (rotor & sand clock)
Colour: Black with black ring
Diameter: 20.0mm x 18.5mm
Height: 7.0mm
Quantity: 2 pairs (1 pair of cufflink bases, 1 pair of sand clocks, 1 pair of rotors)
⠀⠀⠀⠀⠀⠀⠀⠀⠀⠀⠀⠀
SKU: HC1503-03
Shipping:
Free worldwide shipping available. Orders are despatched within 3 - 5 working days after order confirmation.
Return:
Any HOTiTLE products purchased on hotitle.com may be returned within 7 days of receipt for a replacement product should you received a defective or incorrect item.
Please refer to our Shipping and Return Policy for full details.
All HOTiTLE products come with a one-year warranty subjected to T&Cs.
Please refer to our terms and conditions for full details.